language is — musical — both figurative and material — in diaphragm gesture airwaves print imagination — connective — skewed — multiplying — collaborative — keen-edged — hazy —mistranslatable — playful — exploratory
sense making — generating sense — is as powerful as it is absurd
I have things to say — trans snowmelt lens — that can't be said without the resonant spaces — between contradictory or layered elements of experience — pigeons — that poetry performs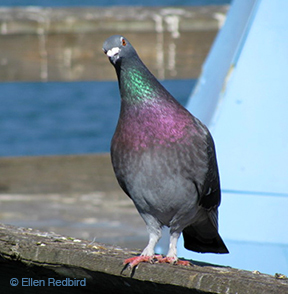 photo adventure bird enthusiast
queer liquid
visual designer
hsp (highly sensitive pigeon)
age 3: had imaginary friends who lived in the mirrors
halloween costumes: octopus — conceptual neuron — fossil bed — white board with pens — mer-mouse — trans-species genderbending ladybug

Ellen Redbird is a poet, playwright, spoken word performer, teacher, and small press publisher.
Born in 1975, in Santa Barbara, California, she began seriously writing poetry at age nine.
She earned a B.A. in literature from the College of Creative Studies, University of California, Santa Barbara, winning two poetry awards. She went on to earn an M.F.A. in Writing & Poetics from Naropa University, winning two awards for service to the Naropa community. Studying performance with Anne Waldman and ecology literature with Jack Collom are two highlights of her time at Naropa.
In 2000, Redbird founded Pyriform Press, publishing handbound books. She edits the journal Nerve Lantern: Axon of Performance Literature, 2001 to present.
Her seven years of teaching experience includes conducting poetry writing workshops for children and adults.
Her poems and performance texts have appeared in journals, including Negative Capability, Singapore Poetry, Tarpaulin Sky, Chain, Bombay Gin, Spectrum, For Immediate Release, and Score. Redbird is a contributor to the compendium, kari edwards: NO GENDER: Reflections on the Life & Work of kari edwards (Litmus Press / Belladonna Books, 2009).
She wrote, produced, directed, designed, and publicized Verve of Verge: a puzzle play, which was performed in Goleta, CA, 2010, raising donations for the local Pacific Pride Foundation. A scene from Verve of Verge was previously produced by Magus Magnus and directed by Enoch Chan for the Yockadot Poetics Theatre Festival in Alexandria, Virginia, 2007.

I don't stand by my words — I swim among them, looking over their heads and diving between their legs. I am a whirl of mismatching pieces. Why should words be any more static than the self? Where is word except in mental movement — in relationships made and broken continually, awkwardly, messily, generatively? I am a piece of a mismatched whirl. Why should words tread water in one place? — that's just shark bait. Even if I stood, the sea floor would move beneath me. This has been written but is not writing.
"Temporary Manifesto" was previously published in the online journal For Immediate Release, 2002.