By Light of the Nerve Lantern: Authors & Performers
---
Joel Allegretti is the author of four collections, the most recent being Europa/Nippon/New York: Poems/Not-Poems (Poets Wear Prada, 2012). His second book, Father Silicon (The Poet's Press), was selected by The Kansas City Star as one of 100 Noteworthy Books of 2006. He is the editor of Rabbit Ears, the first anthology of poetry about television (Poets Wear Prada, forthcoming 2014). His poetry has appeared in many national journals, including Smartish Pace, The New York Quarterly, Fulcrum, and PANK. He wrote the texts for three song cycles by Frank Ezra Levy, whose work is released on Naxos American Classics. Allegretti is a member of the Academy of American Poets and ASCAP.
Featured performance text by Joel Allegretti: "It's Always Prime Time"
Performed by: Joel Allegretti, Maggie Dubris, LuLu LoLo, Todd Pate, John J. Trause
---
Amy Barone
Performer in: "Ishtar Redux" by John J. Trause
---
Caroline Contillo is a writer, comedian, and performer based in Brooklyn, New York. Her work addresses the overlap of traditional modes of comedy and newer forms of performance art. She also teaches mindfulness meditation, and has been conducting a workshop called Sound of Mind which combines traditional meditation with the contemplation of music. You can find her writing, performance, and teaching schedule at http://www.carolinecontillo.com
Performer of: "Overgrown!" by Jessica Hagemann
---
Maggie Dubris is a writer and musician who lives and works in New York City. She is the author of In the Dust Zone (Centre-Ville Books, 2010), Skels (Soft Skull Press, 2004), and Weep Not, My Wanton (Black Sparrow Press, 2002). She was guitarist and a principal songwriter for the 1990s all-female extravaganza Homer Erotic and in 2010 was awarded a New York Foundation for the Arts grant for music composition. Dubris has completed the soundtrack for a collaborative animation with the artist Sang-ah Choi that will be exhibited at the Museum of Contemporary Craft in Portland, Ore., through April 27, 2013. A 2001 recipient of a grant from the National Endowment for the Arts, Dubris currently is working on a nonfiction book about St. Clare's Hospital, where she worked for 20 years as a 911 paramedic.
Performer in: "It's Always Prime Time" by Joel Allegretti
---
Kim Essex received her MFA in poetry at the Jack Kerouac School of Disembodied Poetics at Naropa University in Boulder, Colorado. Her poetry has been published in two chapbooks and several journals including Nerve Lantern and Bombay Gin. Currently, she lives and works in Brooklyn where she teaches art and ESL classes at a public high school. She spends most of her creative time painting, collaging, and reading tarot.
Featured performance text by Kim Essex: "For this you must close your eyes (and listen to the coo coos)"
Performed by: Kim Essex
---
Davidson Garrett is a member of Actors Equity and SAG/AFTRA and has worked in theater, film, and television since 1973. He is the author of the poetry collection King Lear of the Taxi published by Advent Purple Press. Davidson has a new chapbook forthcoming from Finishing Line Press in March, 2013, titled: To Tell The Truth I Wanted To Be Kitty Carlisle and Other Poems. In August 2012, he premiered his one-man show: King Lear of the Taxi: A Poetic Monologue for the Boog City Music and Art Festival. He has subsequently performed this work for the Red Harlem Readers and the North Jersey Literary Series. www.adventpurplepress.com
Performer in: "Ishtar Redux" by John J. Trause
---
Jessica Hagemann is an award-winning author from the Midwest. She earned her bachelor's degrees in English and Anthropology from the University of Notre Dame, where she was the 2009 recipient of the Richard T. Sullivan Prize in Fiction Writing. Jess then completed an MFA in Writing and Poetics at the Jack Kerouac School of Disembodied Poetics, Naropa University. Her work has appeared in PANK Magazine, Gambling the Aisle, Esque Magazine, Devilfish Review, Inquiring Mind, The Oklahoma Review, Bombay Gin, and Kweli Journal, where her piece "Sheer Like Gauze" took first place in the 2012 nonfiction essay contest. Jess previously worked as an editorial assistant at the University of Notre Dame Press and now contributes to the blog for the Abraham Lincoln Presidential Library and Museum, where she works in Accessions.
Featured performance text by Jessica Hagemann: "Overgrown!"
Performed by: Caroline Contillo
---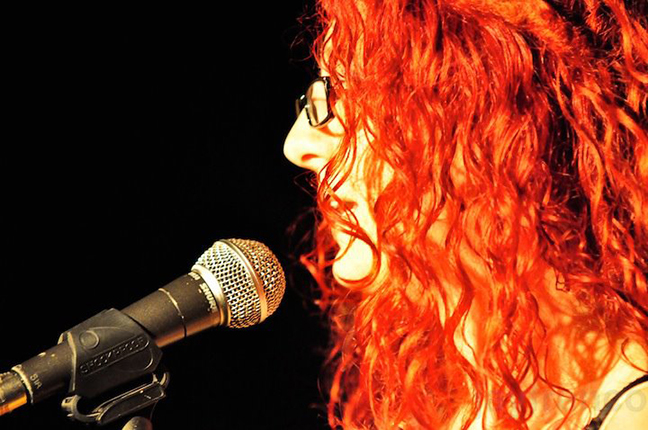 Aimee Herman is a queer performance artist and poet looking to disembowel the architecture of gender, bodies, and sexual grievances. Aimee's poems may be found in THRUSH Poetry Journal, the anthology Troubling the Line: Trans and Genderqueer Poetry and Poetics (Nightboat Books), and full-length book of poems to go without blinking (BlazeVOX books). Aimee is a faculty member with Poetry Teachers NYC, which offers affordable and diverse creative writing workshops. Aimee's forthcoming book of poetry will be released next year by great weather for MEDIA. For more words, go to: aimeeherman.wordpress.com.
Performer in: "Ishtar Redux" by John J. Trause
---
Dennis Leroy Kangalee has no degree and has won no awards. He has led several lives and is constantly looking for meaning. Known as the Nomad Junkie due to his peripatetic lifestyle and artistic restlessness, Kangalee is a NYC-based artist from Queens born to West Indian parents. Poet, performer, dramatist, guerrilla filmmaker, he has been an Outsider Artist from the get-go, choosing to do his "own thing" as opposed to being a part of the "Industry"—sometimes to his own detriment. His poetry, stories, and plays reflect his own anger and frustration as he sees the world's injustice in an everyday observation. Inspired by the Black Arts Movement, the early punk & rap ethos, and Theater of the Absurd, Kangalee draws inspiration from his own life as opposed to Literary History. He takes great comfort and inspiration from the performance-text "genre" and is concerned about the written word as well as its live performance expression and its aural representation. He views this as a singer/songwriter approach to writing prose and poetry. He is best regarded for his 2002 cult film As an Act of Protest and the recent performance piece Gentrified Minds: The NY Horror Vol. 2. He is currently developing a performance collage text and audio recordings of his poems featured in his 2012 chapbook Lying Meat. You can learn more about his work at dennisleroykangalee.wordpress.com
Dennis Leroy Kangalee: co-organizer (with Ellen Redbird and Kris Lew) of By Light of the Nerve Lantern
---
David Lawton is a graduate of the theatre program at Boston University. He most recently appeared in the Wombat Theatre Company's production of Proof. He previously appeared onstage at La Mama almost 20 years ago. David is also a poet whose debut collection, Sharp Blue Stream, arrives in April from Three Rooms Press.
Performer in: "Ishtar Redux" by John J. Trause
---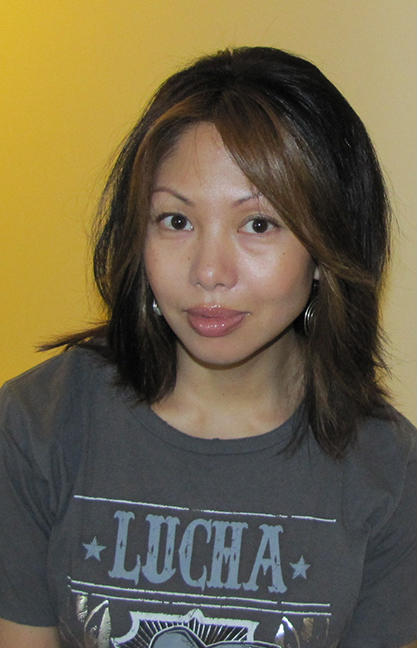 Kris Lew: My roots in spoken word are anchored firmly beneath the glass-and-steel edifices that are terrorizing the Lower East Side. Throughout the 90s, I performed my work at Joe's Pub, Frederick Douglass Writers' Workshop, Lollapalooza '94, and many other spaces at events organized by my brilliant, visionary peers. During this time, I also worked professionally as a modern dancer, primarily with Marlies Yearby's Movin' Spirits Dance Theater Company and with numerous other NY- and CA-based choreographers. "Made in the U.S.A.," a piece I wrote about mail-order brides, was commissioned by Kwame Ross's Sands of Time for a dance piece that we performed at Danspace Project circa 1996.
These days, I toil under the hellish fluorescent beams of my low-level 9-to-5, while attempting to organize my fellow rank-and-file union members and continuing to question and damn this way of living that desperately seeks life. Most recently, I performed a piece specifically written for U.S. Army Pvt. Danny Chen at a NYC benefit in May 2012. Pvt. Chen endured pervasive racism and abuse at the hands of his Army superiors before being found dead in a guard tower in Kandahar in October 2011, and the benefit was held to raise money for the family's travel to the courts martial for all eight suspects in Fort Bragg, NC.
Featured performance text by Kris Lew: "Logic of the Sane"
Performed by: Kris Lew
Kris Lew: co-organizer (with Ellen Redbird and Dennis Leroy Kangalee) of By Light of the Nerve Lantern; show emcee
---
Playwright and performance artist LuLu LoLo has written and staged one-person plays that evolve from her passion for historical research and social justice. Her subjects have included the Triangle Shirtwaist Factory fire, the lesbian lover of Kitty Genovese and women who fought in the Civil War disguised as men. She has performed her work in New York, France, and Italy. LoLo is also a visual artist, working in installations, sculpture, photography and collage; she has exhibited in New York, Europe and Japan.
Performer in: "It's Always Prime Time" by Joel Allegretti & "Ishtar Redux" by John J. Trause
---
Actor and playwright Todd Pate is the author of seven plays, two of which he co-wrote with first-time felony offenders through New York-based CASES (the Center for Alternative Sentencing and Employment Services). His short stories "An American Ghost Murder" and "After the Election – PLAN 12" appeared in the online literary and cultural magazine The Straddler. Pate writes a weekly blog, "El Jamberoo: Adventures in Americaland," in which he chronicles life in New York City and wherever else the road takes him.
Performer in: ""It's Always Prime Time" by Joel Allegretti
---

Photograph by Jill Greenberg, 1989.
John J. Trause, the Director of Oradell Public Library, is the author of Eye Candy for Andy (13 Most Beautiful… Poems for Andy Warhol's Screen Tests, Finishing Line Press, 2013); Inside Out, Upside Down, and Round and Round (Nirala Publications, 2012); the chapbook Seriously Serial (Poets Wear Prada, 2007; rev. ed. 2014); and Latter-Day Litany (Éditions élastiques, 1996), the latter staged Off-Off Broadway. His translations, poetry, and visual work appear internationally in many journals and anthologies, including the artists' periodical Crossings, the Dada journal Maintenant, the journal Offerta Speciale, the Uphook Press anthologies Hell Strung and Crooked and -gape-seed-, and the Great Weather for Media anthology It's Animal but Merciful. He has shared the stage with Steven Van Zandt, Anne Waldman, Karen Finley, and Jerome Rothenberg; the page with Lita Hornick, William Carlos Williams, Woody Allen, Ted Kooser, and Pope John Paul II; and the cage with the Cumaean Sibyl, Ezra Pound, Hannibal Lector, Andrei Chikatilo, and George "The Animal" Steele. "Ishtar Redux" was published in Nerve Lantern: Axon of Performance Literature issue 6 (winter 2013) and has been staged for the Bergen Poets at the Teaneck Public Library, Teaneck, NJ; at the renovated Loew's Jersey Theatre, Journal Square, Jersey City; as part of "Muse Pool" at the Theater Outlet, Allentown, PA; and in the show "By Light of the Nerve Lantern" at La MaMa Experimental Theatre Club, New York City. For the sake of art Mr. Trause hung naked for one whole month in the summer of 2007 on the Art Wall of the Bowery Poetry Club. He is a founder of the William Carlos Williams Poetry Cooperative in Rutherford, N. J., and the former host and curator of its monthly reading series. He has been nominated for the Pushcart Prize (2009-2011, 2013).
Featured performance text by John J. Trause: "Ishtar Redux"
Performed by: John J. Trause, Joel Allegretti, Amy Barone, Davidson Garrett, Aimee Herman, David Lawton, LuLu LoLo